& more all in one place. Totally free to use!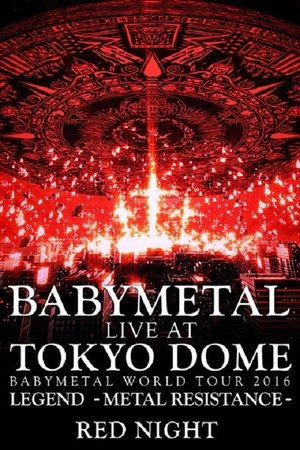 Babymetal - Live at Tokyo Dome: Red Night - World Tour 2016 (2017)
9.2 /10 By 6 Votes
overview : "LIVE AT TOKYO DOME" features the incredible tour finale on September 19th and 20th in 2016 at Tokyo Dome, one of the biggest venues in all of Japan. Capture the extravagant performance by BABYMETAL and the extraordinary production that impressed a total of 110,000 devoted fans over a 2-night tour finale. The closing of Metal Resistance Chapter 4 features completely different setlists with no overlapping songs between RED NIGHT and BLACK NIGHT. RED NIGHT (Sep 19) comprises of songs mainly off of BABYMETAL's second album METAL RESISTANCE, while BLACK NIGHT (Sep 20) mainly focuses on the first album with an even more powerful performance than ever before. Experience the phenomenal performance from this undeniably irresistible metal dance unit and follow them take over the world one country at a time.
Release Date : Apr 01, 2017
Runtime : 1h 27m
Genre : Music
Companies :
Countries : Japan
Keywords : rock 'n' roll, heavy metal, music, concert, live, metal, j-pop